Do you want to be able to set your own customized Showroom web address (custom domain) or access e-commerce features that email your customers when they've added to their cart and didn't place an order (abandoned cart)?
If so, this article has all the steps you need, and the Showroom Pro removes any inFlow branding from your documents. Learn more here.
Please note this feature is only available on select inFlow Cloud plans or add-ons.
Setup
Setting up a custom Showroom domain
You can customize your Showroom domain on your web app. To do so:
Log into app.inflowinventory.com with an admin account.
Go to Main Menu > Options > Showroom > Customize your domain.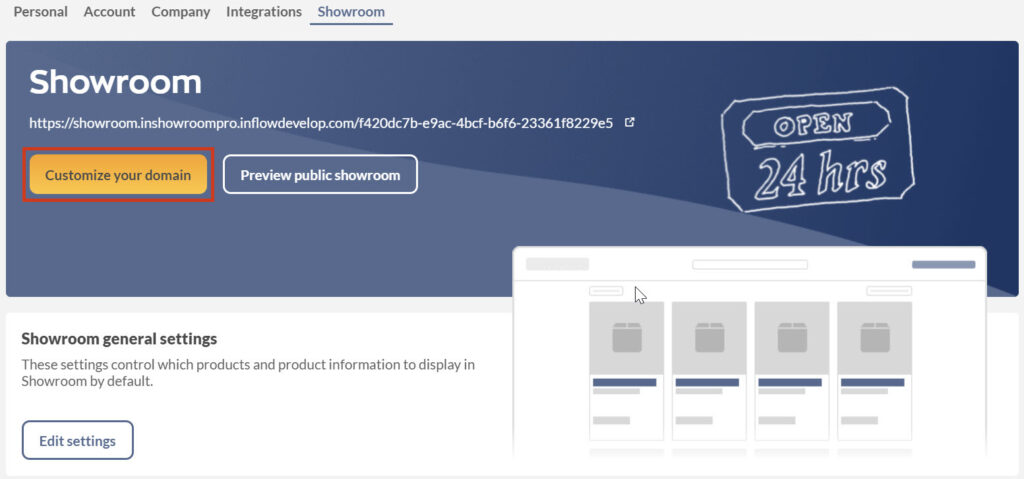 On this window, you can set a custom domain.
Note: You must own that domain already.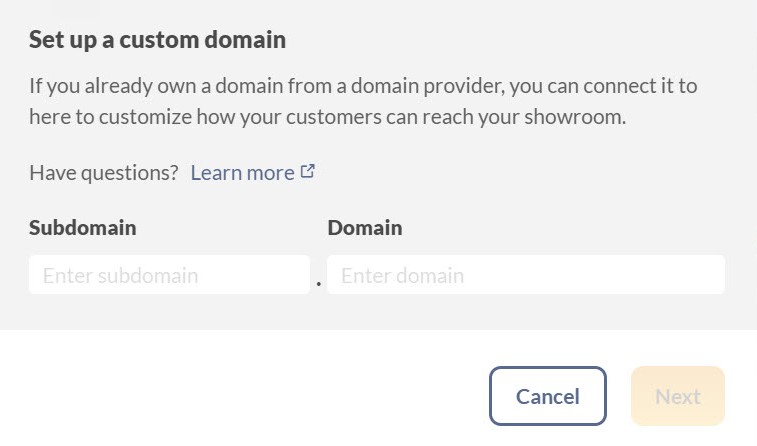 On the next screen, you'll have the Type, Hostname, and Target name which you'll need to use when setting up with your Domain Provider to customize how your customers can reach your showroom. Make sure they are the same.
Once that's done, it can take from 1 to 3 days for those changes to be applied. In most cases, it will take just a few minutes.
When you access your Showroom settings, you'll see the verification status. Once you submit your domain it will show as Pending Verification, and it will disappear when the domain is approved.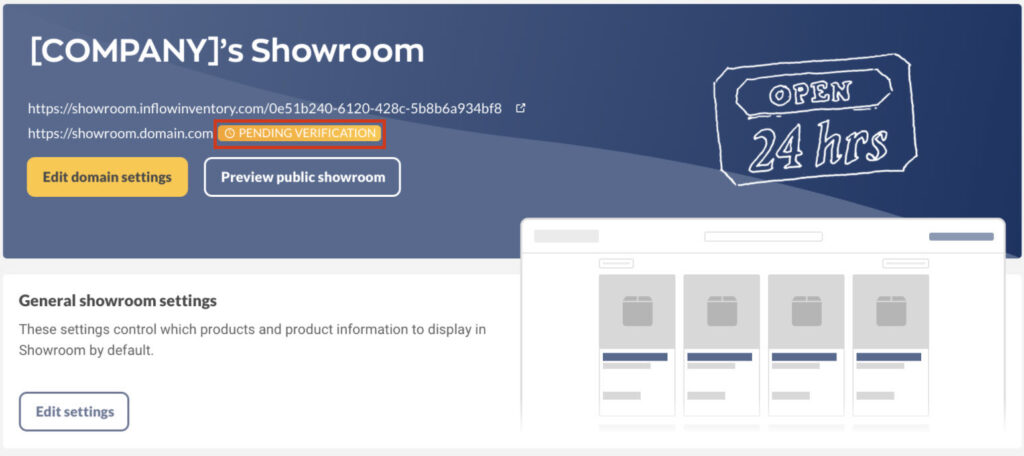 Note: Even after the custom domain is verified, there could be a period of time before there's a valid SSL certificate for it. This should be available within approximately 5-10 minutes, and during that time the link won't work.
Abandoned cart
What's the Abandoned cart?
When a user adds a product to the Showroom cart but doesn't proceed to checkout and completes the purchase.

What features does this include?
We've added report and email reminders to let both you and your customer know which products they forgot to purchase.
Abandon cart report
With Showroom Pro you'll have access to the Abandoned Cart feature in the form of a report. With this feature, you're going to be able to see your customers' abandoned carts and data on the most added products, quantities, customer details, and any important information that will allow you to proactively reach out to them. You can even enable an automatic email that is sent to your customer when they abandon their shopping cart.
How can I check the details of the abandoned carts?
Abandoned carts are added to the report if there has been no activity within the past hour.
You'll be able to filter the abandoned carts by date range and even group them by company.
On the report, you'll see by default the Product related info but you'll be able to add more columns related to your customer, such as contact or custom fields you might be using.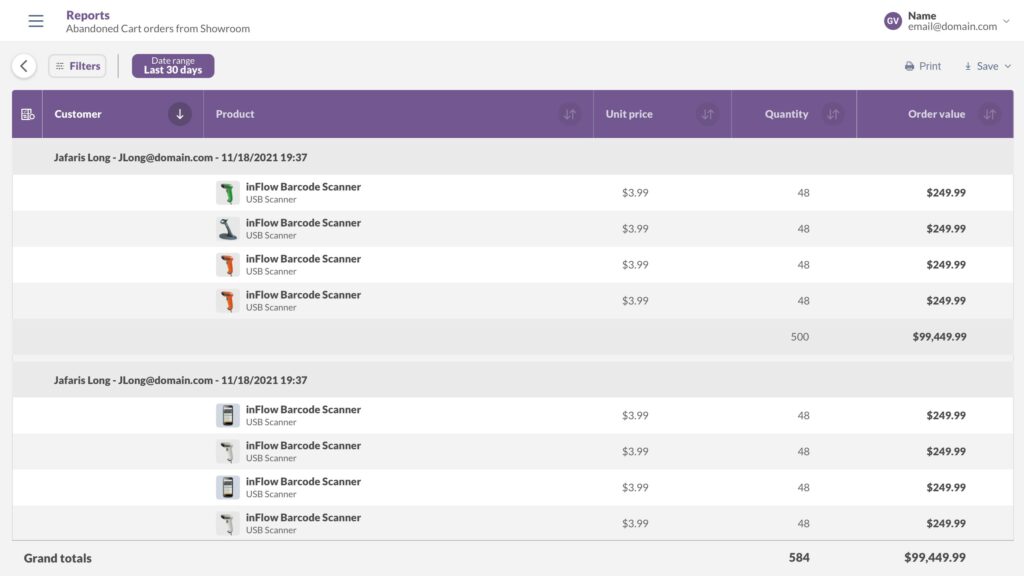 How does the customer email reminder work?
With Showroom Pro you can set inFlow to automatically send a reminder to your customers if they added items to the cart and didn't finish the purchase.
If enabled, inFlow will check for abandoned carts every 15 minutes and trigger an email reminder to the customer.
inFlow will not send the email if:
The customer is still browsing the Showroom (if there was any activity within the past hour).
We've already sent out an email for the same cart and there was no new activity.
To enable the customer notification you'll need to:
Log into app.inflowinventory.com with an admin account.
Go to Main Menu > Options > Showroom > Edit checkout settings.
Toggle the Notify customer after 1 hour button, and save.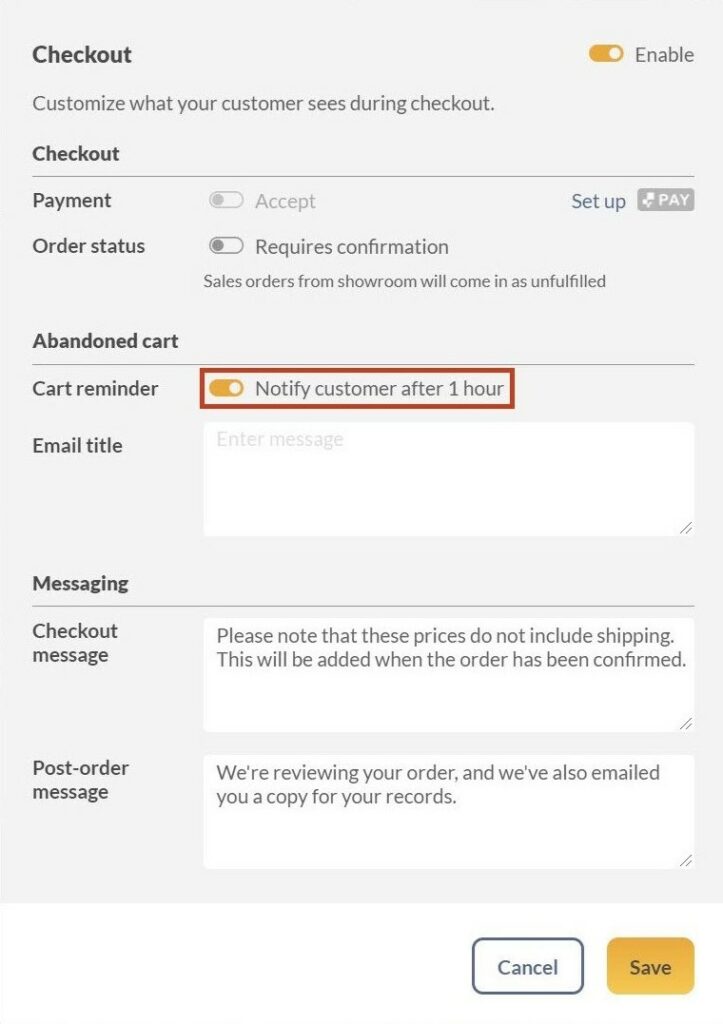 For more information, please contact our Support team here.