Are you currently using inFlow Cloud and QuickBooks Online (QBO) to manage your inventory and sales? If so, we've introduced a new feature to push new sales orders into QBO automatically. Check out the steps below to get started.
We currently support QBO US, Canada, UK and AUS.
To jump to a specific section of this article check out the links below:
Getting ready to integrate QuickBooks Online
Setting up the inFlow to QuickBooks Online integration
Mapping Chart of Accounts (setup)
Mapping Taxes (setup)
Payment Sync (setup)
Include Customer Name on QuickBooks Online Invoices (setup)
Getting ready
Currency settings for inFlow Cloud & QuickBooks Online
Make sure that the main currency that you use in inFlow is the same as the main currency used in QBO. If you use more than one currency in your inFlow Cloud sales orders, turn on the Multicurrency setting in QBO.
You can't change the customer currency settings in QBO after a sales order has been synced. Verify that the home currency that is set up in the inFlow customer profile matches one of the currencies that is set up in QBO. You can check a customer's currency in inFlow by going to Main Menu > Sales > Customer List. Open the customer profile, and select the correct currency from the Pricing / Currency drop-down menu.
Taxes
If you charge a sales tax to your customers in inFlow Cloud, those same tax rates will need to be added to QBO. For example, if you charge a 6% sales tax in inFlow, add that same 6% sales tax to the Taxes section of QBO.

Setting up QuickBooks Online
Connecting inFlow to QuickBooks Online
Go to Main Menu > Options > Integrations.

Your browser will now open. If you aren't already logged in to inFlow on the web, you'll be prompted to enter your inFlow account email address & password.

If you are already logged in, you'll be automatically directed to the

Integrations

section. Click on the QBO image to continue.




A pop-up window will launch. This gives you an overview of what information will sync to QBO from inFlow Cloud. Click Next to continue.
Your browser will direct you to your QBO account. Click on your account to continue. (If you have multiple QBO accounts, select the one that you would like inFlow to communicate with).
Click the green Authorize button at the bottom right-hand corner of the screen to continue.
Mapping your sales orders to the Chart of Accounts
The term "mapping" is a way of directing your information from inFlow Cloud to the correct destination in QBO. For example, customer names in inFlow Cloud need to be mapped to the customer name sections of QBO to keep the information between the two programs consistent.
Now that the initial setup is complete, your browser will take you back to inFlow Cloud's account management portal. Next, you'll need to map inFlow sales order information to your accounts in QBO.
For the sync to work, information from inFlow needs to be mapped to QBO. Here's where you can set that up. The drop-down information contains your current QBO Chart of Accounts.
Please note: currently, we only sync Product Income and Payments to QBO.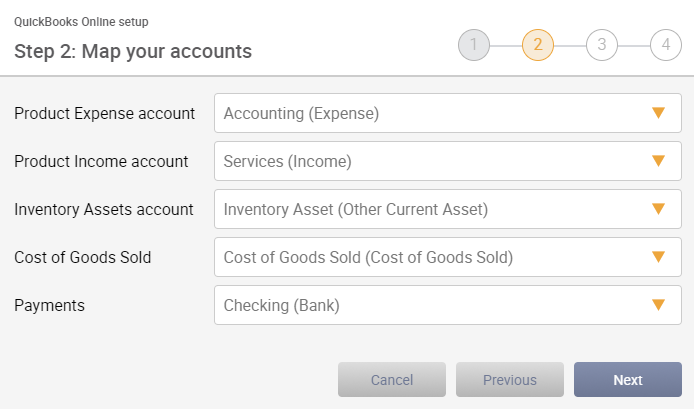 Only sales orders sync from inFlow Cloud to QuickBooks. Sales quotes aren't able to sync through this integration.
Once you have mapped this information, click the Next button to continue.
Mapping your inFlow taxes to QBO
Similar to mapping your accounts, you'll need to map the taxes that are in inFlow Cloud to the tax rates that are in QBO. Otherwise, if you have a sales order that charges sales tax and QuickBooks doesn't already have that tax rate pre-loaded, your sales order won't sync.
QuickBooks Online has released a new Automated Sales Tax feature that can calculate the taxes on your invoices for you based on shipping addresses and order information on your invoices. If your account has this feature enabled you won't have to map any taxes, and the window will say Tax setup is complete. Click Next to complete the setup.
The taxes that are in inFlow are displayed on the left-hand side, and the taxes in QBO are in the drop-down menu. Click the drop-down menu to match the inFlow taxes to the QBO taxes.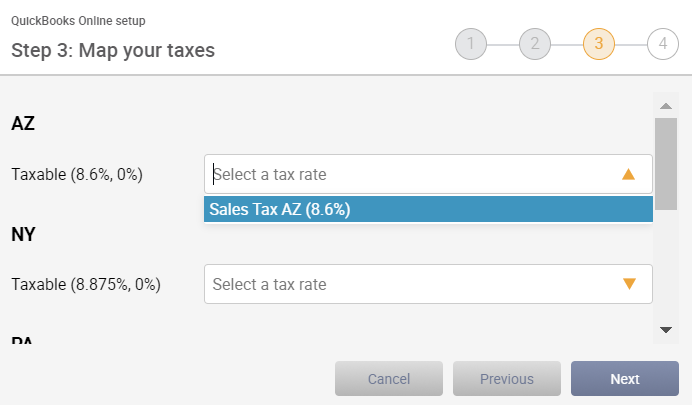 If there isn't a drop down menu listed to the right of the inFlow tax rates, it means you need to create that tax in QBO. For more information on how to add tax rates to QBO click here.
If you don't have any taxes in inFlow Cloud, you can click Next to continue.
When you have finished mapping your inFlow taxes to QBO, click Next.

Payment Sync
The payment sync sends all payment information on sales orders from inFlow Cloud to QBO.
If your business enters payments into QBO manually or with another software integration, this can cause duplicate payments if you mark an order Paid in inFlow Cloud. This is because there are now two sources trying to pay the same order. To prevent this, you can click the Turn payment sync off link in this setup window.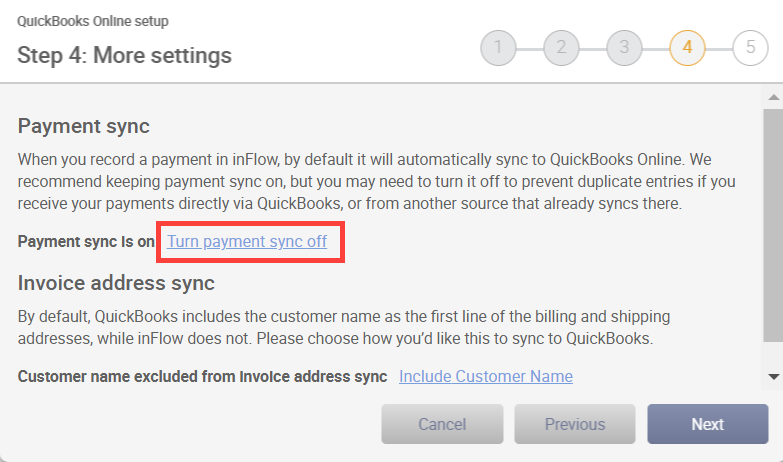 When payment sync is off, all orders that are invoiced, partially paid, or paid in inFlow will still sync to QBO. When you receive the payment in QBO, you can still mark it as paid in inFlow without worrying about duplicate payments.
Include Customer Name on Invoice
By default, the customer name will not be included on the invoice that is created in QBO when an order is synced. You can choose to have the customer name appear on QBO invoices by clicking on Include Customer Name in the QuickBooks Online integration settings.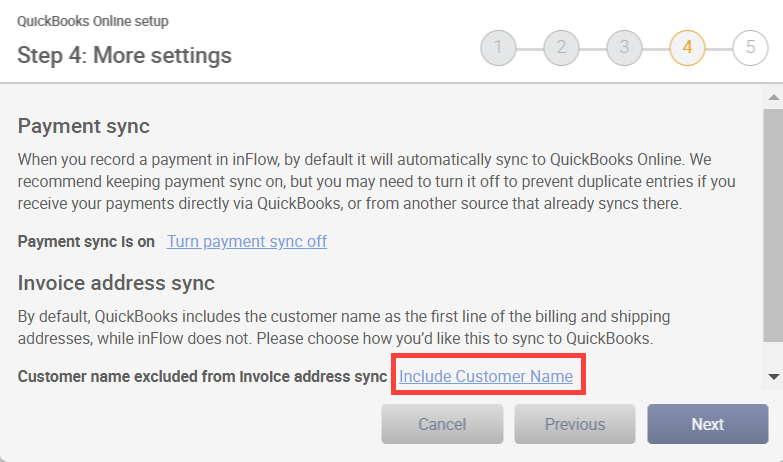 Now you're all done! The green check-mark on the top right-hand corner of the QBO icon means you have successfully connected inFlow Cloud to QBO. From now on, any orders that have are invoiced, partially paid, or paid in inFlow Cloud will sync to QBO.