inFlow Cloud lets you check your inventory from anywhere you have an internet connection. Using the inFlow Cloud web, Apple or Android mobile apps are also helpful for checking stock on the go! But showing customers your inFlow database isn't the best way to show off your products.
To help, we've released Online Showroom that's connected to inFlow. It's a customer friendly way to show off all your inventory without revealing your cost and other private information. You can even allow your customers to place orders through your Online Showroom.
Web
Setting up your Online Showroom on inFlow Cloud for web
If you're logged into the inFlow Cloud Windows app, you can use the shortcut to redirect you to the showroom settings by clicking on Main Menu > Options > Online Showroom. Your web browser will open where you can click on the Showroom tab.
If you're already logged into the inFlow Cloud web app then you can access the Showroom settings from here: https://app.inflowinventory.com/options/showroom. Please note, Showroom can only be accessed by inFlow Cloud Admins.
To change the showroom settings, click the Enable toggle on or off.

Once enabled, the Showroom section gives you an option to preview your showroom or copy the URL for your showroom site for you to share it with others.

Online Showroom settings
The General showroom settings is where you can set up how your showroom will look to your customers. The general settings almost acts as a template for when you decide to create personalized showrooms for your customers.
Under the General showroom settings heading, click on the Edit settings button to select the products, custom fields and relative information that you want displayed on your showroom.

You'll now see a full list of settings you can change to personalize your Online Showroom.
Theme colour
The Theme colour offers suggested theme colours based off the colour scheme of the logo uploaded in your inFlow Account settings. If you don't have a logo uploaded then the showroom will show the default blue colours. You can also click the "+" button to add additional colours with the colour picker, or by adding the colour #HEX code.
In this example the shades of orange and brown inFlow has suggested are based on the inFlow logo uploaded in the inFlow Account settings. Please see the two images below as an example.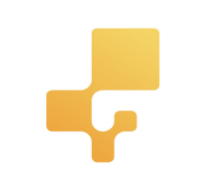 Layout
The layout settings give you the option on how you want your products to be displayed on your Online Showroom. There are two options, List and Grid. The List view is best for displaying products with longer names, and the Grid view is great for showing off the product photos.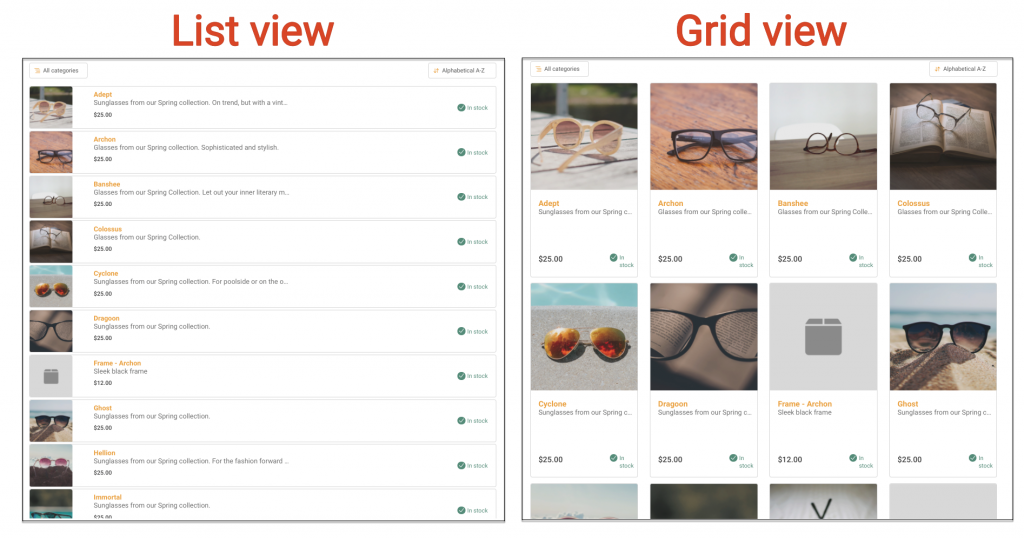 Font
This area is where you can select the font you'd like your Online Showroom to have. Once you save your Online Showroom settings you can click the Preview Showroom button to take a look at your changes.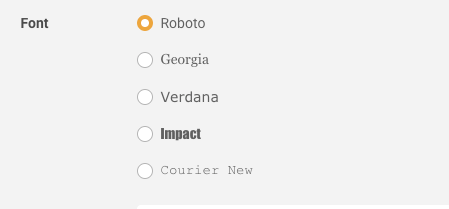 Text banner and Banner image
In this section you can add a banner at the top of your online showroom to match your company's branding. You can use both banners, or just one.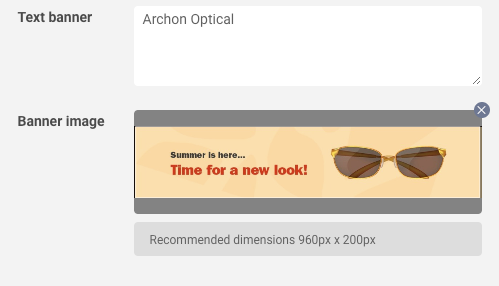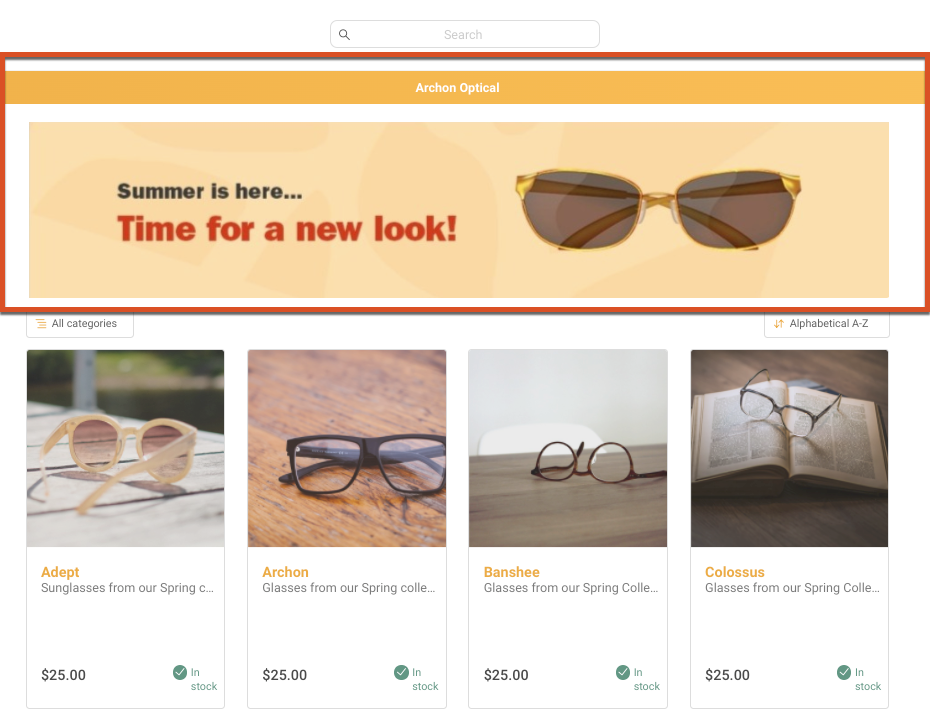 Products
To select the products to show in your showroom click on the arrow in the products section. You can also exclude out of stock products by adding a checkmark to the Exclude items when they are out of stock setting.

Click on the checkbox of a category to display the products in that category in your showroom.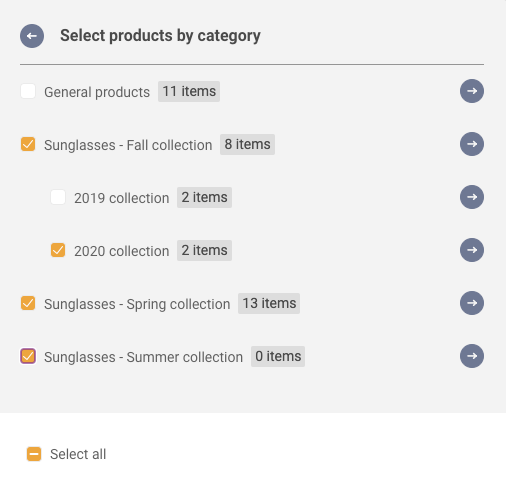 If you only want to display a subset of the products in a category, click on the grey arrow and select the products you want. You may also search for a specific product.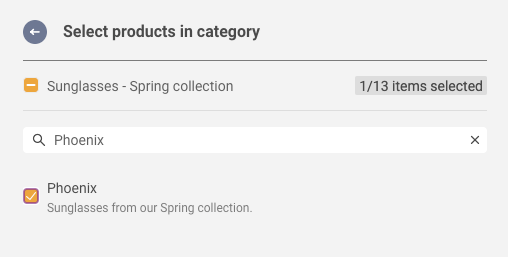 Display settings
This section is for customizing what information from inFlow will be displayed on the Showroom. Choose to display the how much quantity is in stock, whether an item is in stock, image, category, description, measurements, and/or custom fields.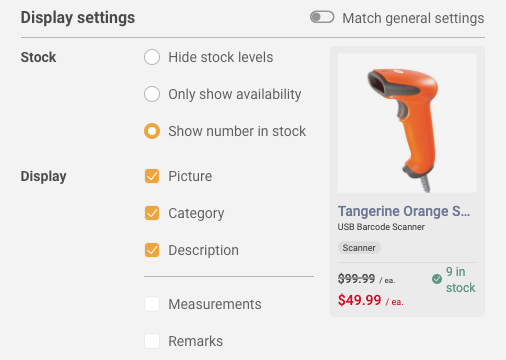 Contact info
The Contact Info section lets you help your customers reach you. Your phone number will show up on the showroom contact section and any messages your customers send will use this email. Also if an order is made by an invited customer, an email will be sent to it with the order information.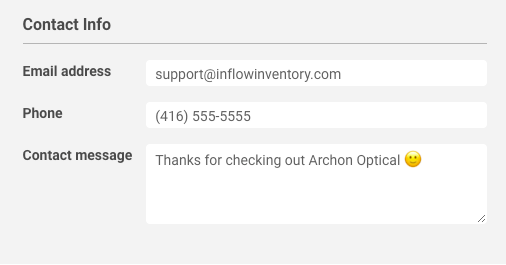 All that is left, is to click on the Save button at the bottom of your screen and your Online Showroom is complete! To take a look at it, scroll to the top of the Showoom inFlow screen and click the Preview Online Showroom button.
Public access
Now that you're created a Online Showroom, you have the option to allow it to be seen by everyone, or you can keep your showroom invitation only. To allow your showroom to have public access click on the Edit public access settings button.
First toggle the Enable switch on.
There will be a few settings listed below. You can choose to show prices for your products, select your Pricing / Currency, and customize the signup message.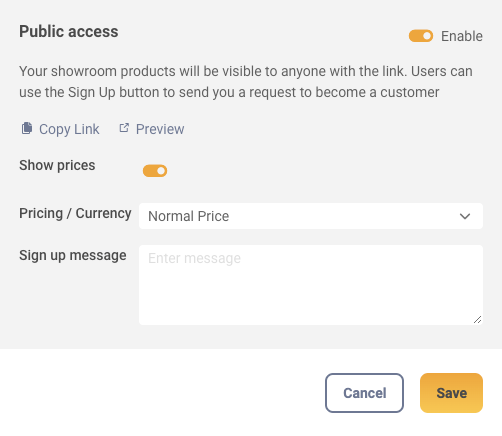 The signup button is displayed on the public access showroom for a new user to sign up as a customer in your inFlow database.
Showroom special access
The online showroom also allows you to customize it based on who you're sending the Showroom invitation too. You can also allow them to place orders that will be submitted to inFlow directly. For more details on how you can invite customers to view your showroom take a look here.
How can I accept payments Showroom orders?
Did you know that inFlow has a feature to accept credit card payments directly from Showroom orders? This feature is called inFlow Pay and we've partnered up with the payment processor Bambora to make this possible! For complete details on inFlow Pay take a look at this article.