You can now create new Sales Orders in the inFlow web app! Just remember: you'll need at least one customer already in your system to select it for new orders.
To create a sales order:
Click on the Sales Orders tab to begin, then click new sales order. (Main Menu->New Sales Order)
Begin typing into the Customer field; you should see your customer's name appear, or select one out of the list.
Click the + Add product button and select a product from your list. Continue as necessary until you've selected all the items your customer wants to buy.

If your team will be shipping items to your customers, toggle the Include shipping button on the right side so your warehouse staff will know where to ship this order when they're working on the desktop app. Once toggled, you'll be able to edit additional fields like PO#, Payment Terms, Freight, and Due Date.
You can enter an amount into the Paid field if you've received payment from your customer, or just click the Mark Paid button.

Clicking on the Paid button will bring up the Payment Details window if you need to enter more detailed information (e.g. payment method, multiple payments).

To remove products from an unfulfilled order: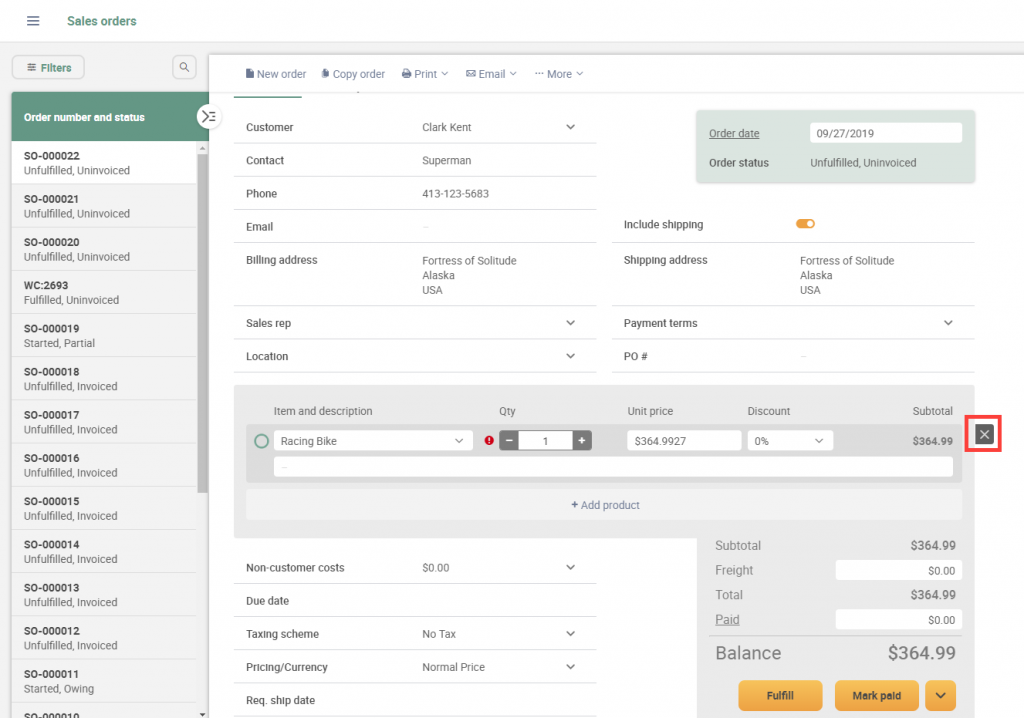 Hover over the row containing the product you want to remove.
Click the x button beside the row to remove it.
Can I make changes to existing orders from the web app?
Yes, as long as the order does not contain a serialized item. When you view an order, you will see a prompt at the top if it's not an order you can edit on the web app.