Ordering through your online showroom is a fast and easy way for your customers to buy more of your products.
For more information on the online showroom, please see this article.

For instructions on how to set up your online showroom, please see this article.
For more information about each step in the ordering process, please follow these links:
Enabling order taking
To take orders through your online showroom, you'll first need to enable the option in the Showroom settings.
In inFlow Cloud for Windows, open the

Main Menu > Options > Online Showroom. 

Or go directly to app.inflowinventory.com/options/showroom from any web browser.
You'll be redirected to the showroom settings of inFlow Cloud for web in your default browser. 

If your showroom isn't enabled already, toggle it on.

If you'd like to modify your general showroom settings then click on the Edit Settings button under General showroom settings. Once you've made your changes click the Save button. 
Under the Checkout section, click Edit checkout settings.

Here is where you can set the order settings for your showroom. If you've just enabled Showroom, this should automatically be set for you, but here's where you go if you want to change the setting.

If you'd like to confirm your customer's orders before it reserves your stock in inFlow, click the toggle Order status Requires confirmation toggle.

You can also set a

Checkout message

and

Post-order message

on this screen as well. This will be what is shown to your customers when they place an order.

Click

Save. 
After saving these settings, anyone who you've sent a special showroom invitation to will be able to place orders through your Online Showroom.
If you set your showroom orders to require confirmation, when your customer places an order through your showroom, the sales order will be created in inFlow with an Unconfirmed status. Unconfirmed orders do not count against your quantity reserved until you confirm it. Any team member with full edit rights to sales orders can mark an order as confirmed. We recommend enabling this option if you need more control over the amount of stock your customer is reserving through your showroom.
When customizing special showrooms for your customers, keep in mind that the Show prices setting needs to be selected to allow customers to order from you. If the prices aren't shown on your customer's special showroom invitation then they won't be able to place an order.
How a customer places an order
Your customers will be able to add items to an order from the individual product pages in your showroom. They can choose the quantity of each product they'd like to order. Once they've finished adding items to their order, they can click on the shopping bag icon in the top right to begin the checkout process.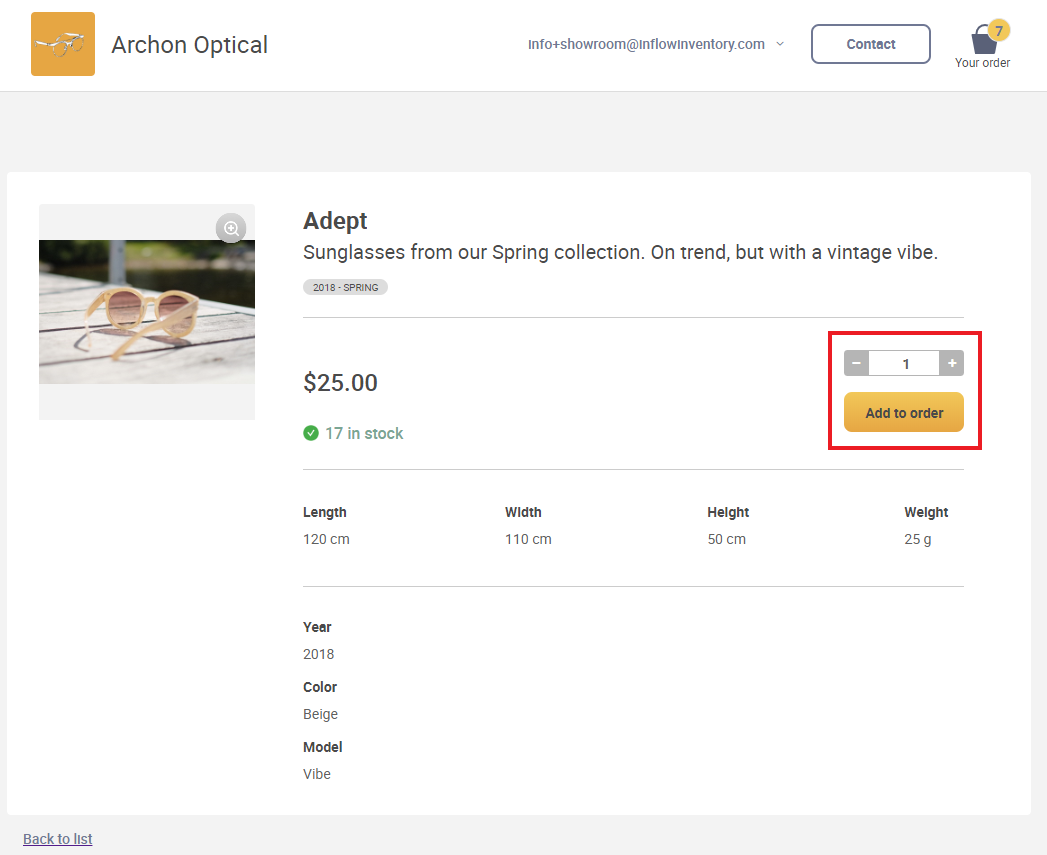 The Order items page will display the items that the customer has ordered, as well as the checkout message you've entered into your Showroom settings. Your customer will be able to change the quantity or remove any of the items they've added to the order.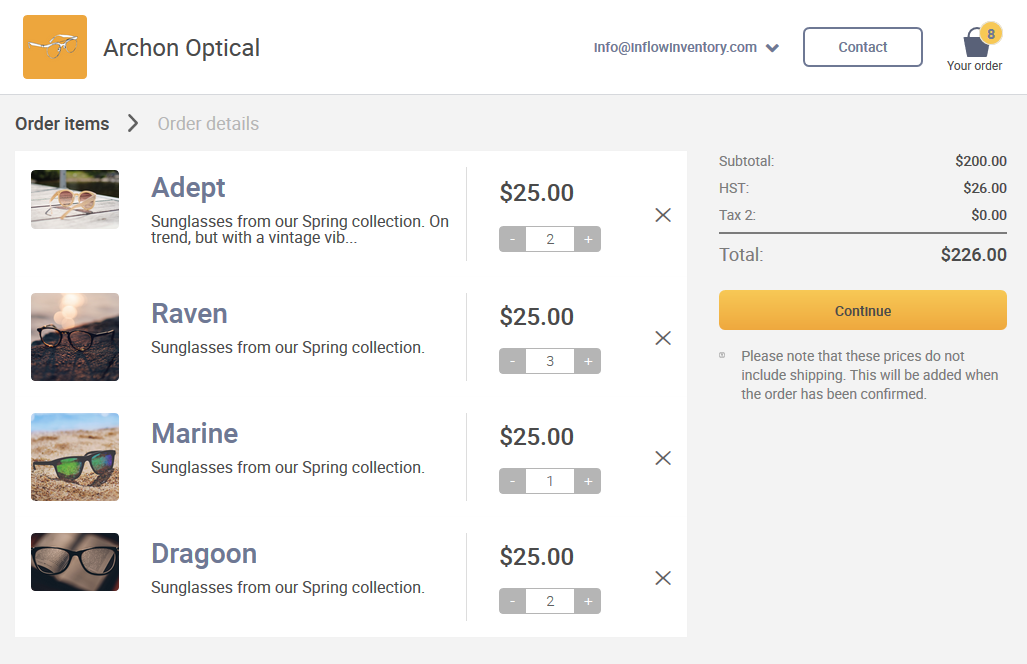 Clicking Continue from the Order items page will bring them to the Order details page. In the Order details page the customer can enter their contact information, as well as billing and shipping information. Any special requests the customer has can also be entered here.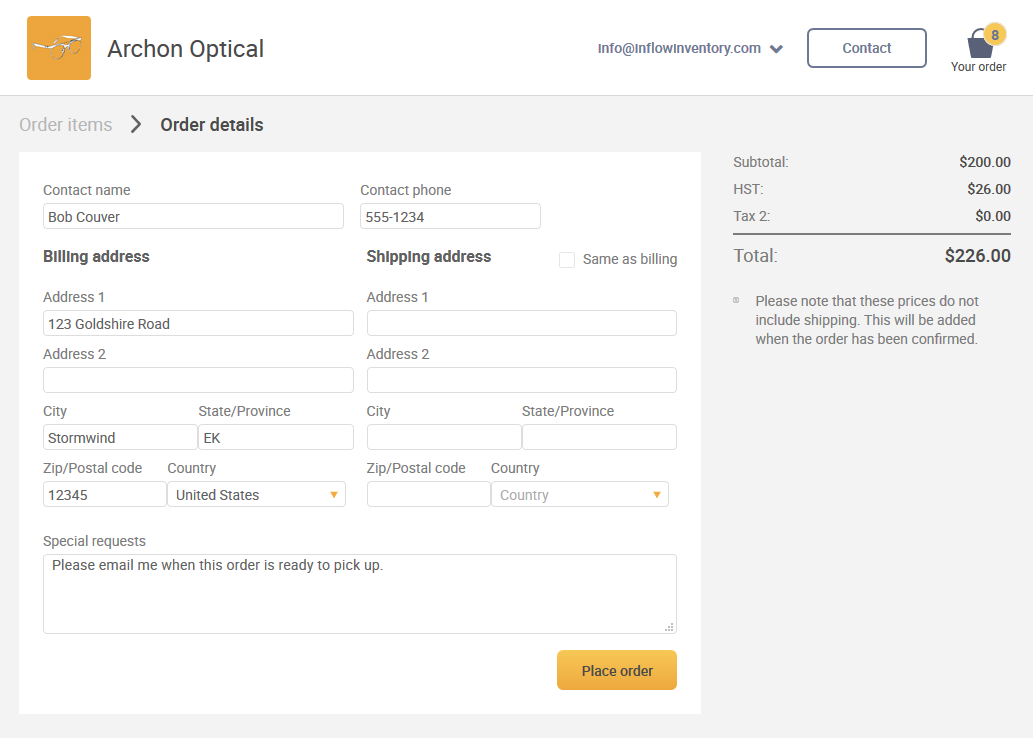 If you've entered any of this information into the customer's record in inFlow, this will be pre-filled for them. If the showroom user isn't attached to a customer in inFlow, a new customer will be created for you using the showroom user's email, and any information they fill in here will be included.
Once they click Place order, the order will be created, and the customer will see a confirmation screen showing them the order number, and the Post-order message from your Showroom settings.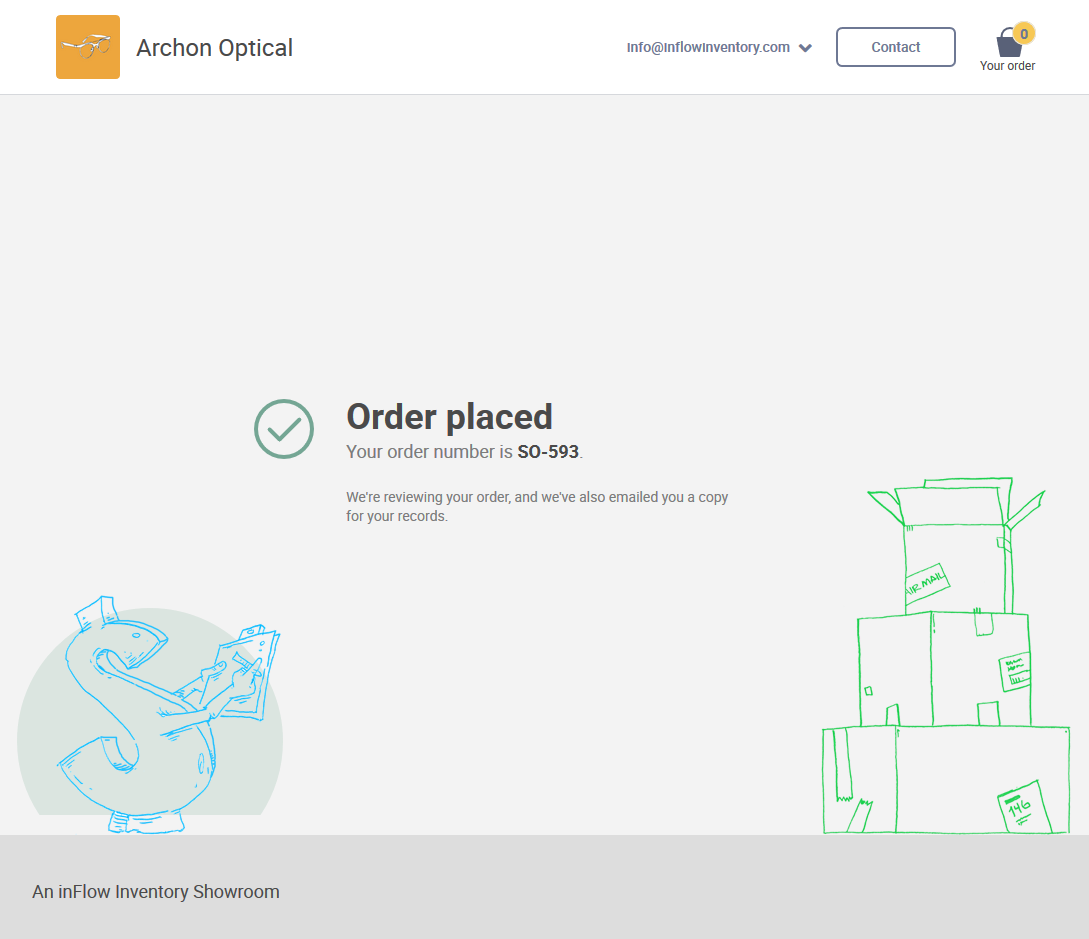 Completing the order
After an order is placed, both you and your customer will receive a confirmation email notifying you that the order has been created. Both of you can reply to this email to contact the other party if there's any follow up needed to be done.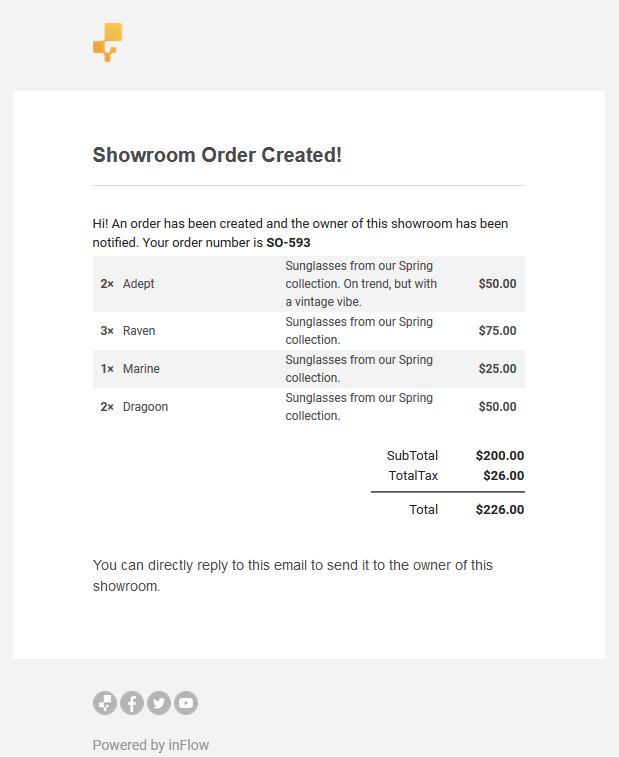 Receiving payments from the Showroom.
If your business is located / registered in the United States or Canada, you can sign up for inFlow Pay to accept credit card payments from your showroom orders! For complete details on this take a look at our inFlow Pay article here.