Finished setting up your online showroom? Great! It's time to start inviting your customers to see it. See below for options for how you can share your showroom.
Copying your Showroom URL
If you've enabled the public access showroom settings you can simply copy the showroom link and send it to start sharing. To find your showroom link go to the showroom setup screen from here: https://app.inflowinventory.com/options/showroom
Click on the Copy Link button to quickly copy the link to your computer's clipboard. You may also copy and paste the link.
Special Showroom Access
If you'd like to send a custom view of your showroom to someone, or allow someone to place orders through your showroom, you can do that with the Special Showroom Access feature.
Here is where you can select what products and details they can see, and it will send a link to their email to give them access. Take a look at the steps below to send a showroom invitation to someone.
Note: There is no limitation on the number of invitations that you can send out for your online showroom.
Inviting someone to the online showroom
To get started in the Showroom special access section click on the invite someone button.
NOTE: If you want to invite all your customers with an existing email address, click on the Invite all remaining button. The default showroom settings will be applied to these settings.
An invitation window will open. If you're inviting someone to your showroom who isn't a customer listed in your inFlow database, select Invite with email and then enter their email address. If you're inviting an existing inFlow customer, choose Select customer and then select their name from the drop-down menu. Their email address and name will auto-populate. Click Next to go to the next step.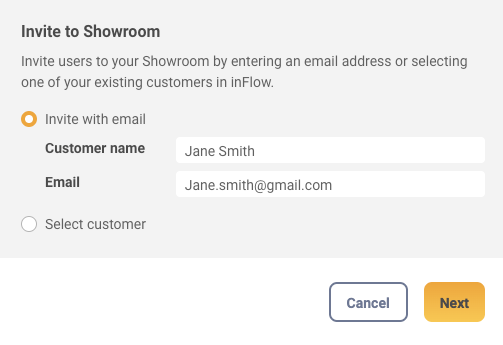 Showroom special access settings
On this window you have the option of customizing what products and settings will be viewed by the recipient.
Choose the showroom settings from the Products, Price settings, Display settings, and the message sent to them. If you want them to see your showroom with the default Showroom settings, toggle on the Match general settings next to the Products heading, that it shows as on (in orange).
Note: When adding products, you may add products by category by selecting the category. If you want to only select some of the items in the category, click the arrow associated with the category and pick the items that you want shown. You may also search for a specific product within a category once you drill down into a category.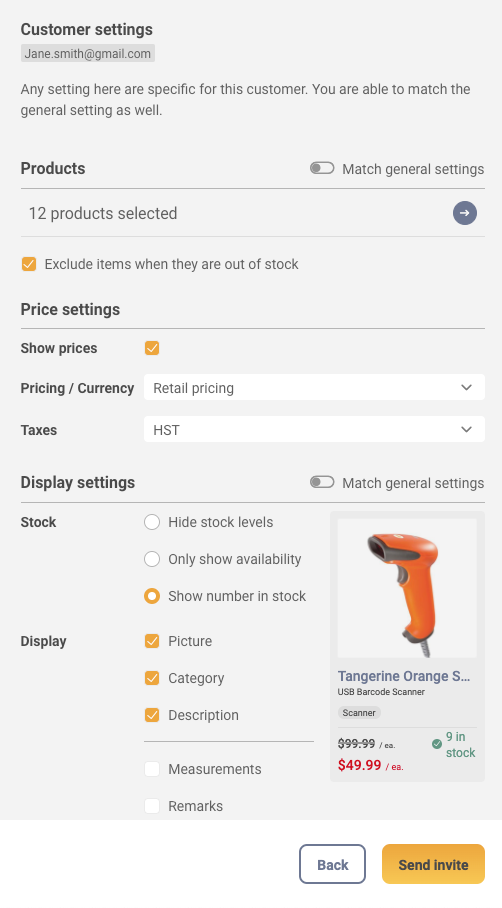 You can change the subject line of the showroom invitation, and you can send a custom message to the person you're inviting by clicking on Custom message in the message section. Click the Send invite button when you're done.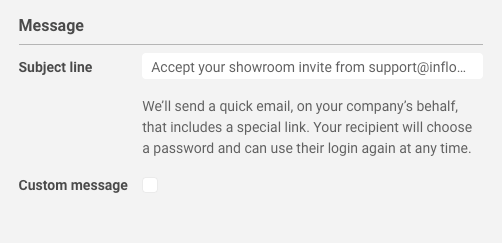 Now you're all set to share your Online Showroom with all your customers!