inFlow On-Premise requires a specific service in order for it to run properly. You can try restarting this service if inFlow cannot start up or launch, or if your licenses aren't showing correctly (e.g. you are in the Free edition but you have bought a license previously).
This service is located only on your server/main computer. If you don't see this, you might be on a secondary/client computer instead. You'll need to find your server/main computer to perform these steps.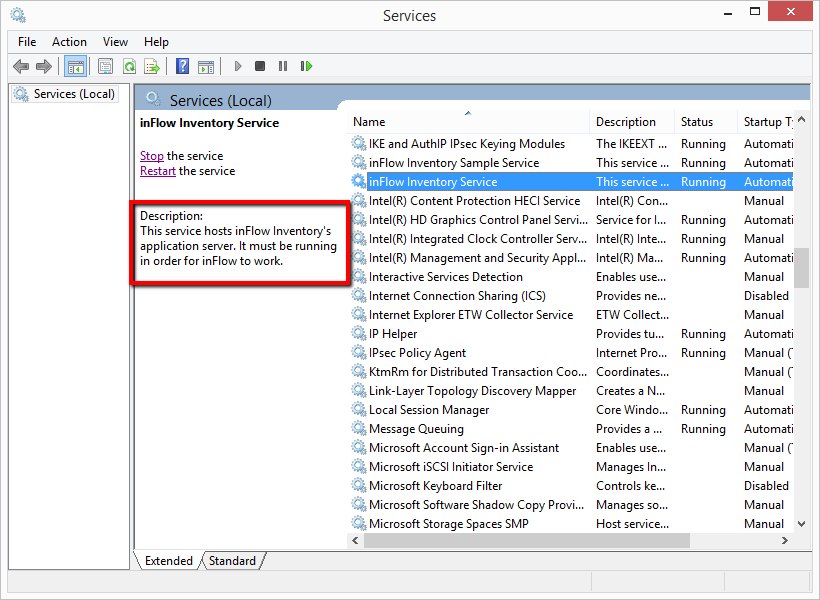 To restart the inFlow inventory service:
On your server computer, open your local services window following the instructions below based on your operating system:Windows XP: Click Start > Run> and then type in 'services.msc'
Windows Vista/7/8/10: Click Start (or hit your Windows key on your keyboard), type in 'services' (or Control Panel > System and Security > Administrative Tools > Services)
Scroll down this screen until you see a service named "SQL Server (INFLOWSQL)".
Check that it's running. If it isn't, right-click and click the "Start" button to start the service. Don't worry if you don't see this service, just move on to the next step — this only applies to users with SQL Server 2005, 2008 R2 and 2014.
Then scroll up to "inFlow inventory service" or "inFlow Application Server service" (for older versions of inFlow). Right-click and select "Start" to start the service.
If you don't see "inFlow inventory service" or "inFlow Application Server service", you are likely not on your inFlow server computer, or you are running inFlow v2 which these steps don't apply to.
The service won't start/stop!
If you cannot start the service because the status is already "Starting", we need to first stop this so we can do a restart (step 3). To stop this, first press CTRL + SHIFT + ESC together to bring up the Task Manager.
Windows Vista and Windows 7: Click on the Processes tab and look for inFlowService.exe and end the process.
Windows 8 and Windows 10: Click on "More Details" at the bottom and then scroll until you see "inFlow App Server". Then right-click on it and select "End Task".
Once you have ended the process, repeat step 3 to restart the inFlow service. it should no longer show the status "Starting".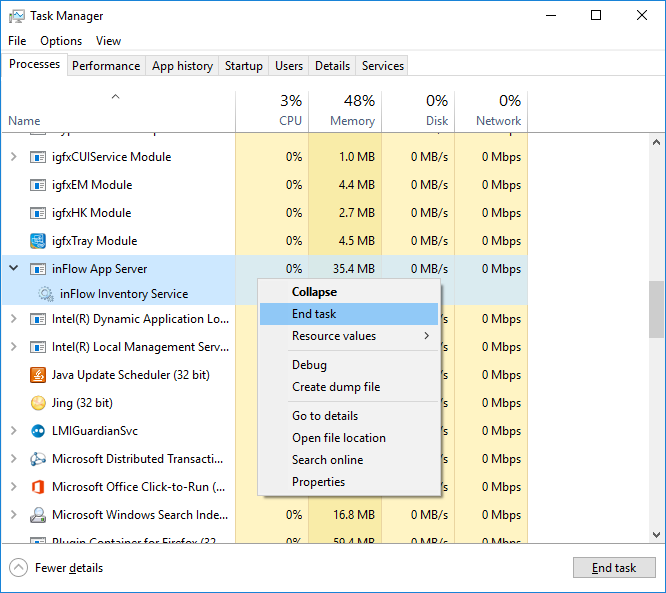 Check to see if the problem was resolved. If it isn't, feel free to contact us using any one of the methods below!